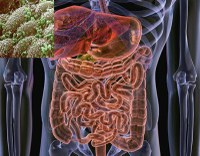 A symposium on food and cancer research.
The 2012 18th Annual Cancer Research Symposium convened a session to educate the cancer research community about the emerging field of microbiome research and its potential implications for cancer patients, who routinely experience dysbiosis as a consequence of therapy and immune compromises.  There is evidence that interventions into the microbiota (as well as some studies suggesting short-term fasting prior to chemotherapy cycles) may be able to ameliorate common gastric symptoms associated with chemotherapy. 
Speakers presented a wide variety of perspectives on gut-related developments in science.  Presentations by researchers at the Foods for Health Institute and the UC Davis Comprehensive Cancer Center highlighted the emerging work on food, health, and cancer therapy.
Download the two-day Cancer Research Symposium program. 
Presentations