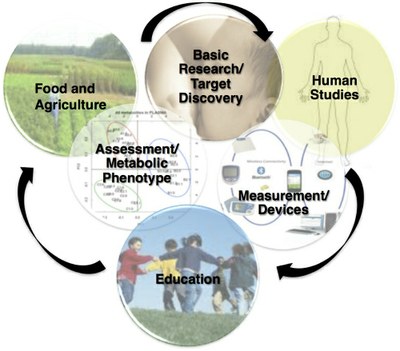 "Measuring Response to Food: Phenotyping Tools and Targets"
On June 8th and 9th, 2012, the UC Davis Foods for Health Institute and the USDA Western Human Nutrition Research Center jointly hosted the phenotyping conference, "measuring response to food: phenotyping tools and targets."
Phenotyping is the measurement of a composite of an individual's characteristics. Phenotypes result from the expression of genes as well as the influence of environmental factors such as diet, lifestyle and environmental exposure, and the interactions between the two.
Personalized health is the future and phenotyping is the revolutionary approach that will bring it to practice. By measuring people's health comprehensively we can better tailor foods, diets, and treatments to prevent disease and improve health holistically.  
The conference brought together approximately 100 attendees including world-renowned researchers, industry partners, and USDA administrators and stakeholders to launch the UC Davis Center for Phenotyping Health. A key objective of the conference was to initiate the discussions that will shape the Center's mission and goals: what measurement tools, diagnostics, health targets, foods, diets, and health conditions will be investigated and brought to practice. 
Conference Program for Day 1, Friday June 8
Time

Speaker

Topic

8:30-9:00

Bruce German & Lindsay Allen

Introduction to the meeting

9:00-10:00

Ralph de Vere White

Opening lecture

10:00-10:30

Coffee break

 

10:30-12:15

                                             Phenotyping Metabolic Health

10:30-11:15

Steven Watkins, Tethys BioSci

Predictive diagnostics for metabolic health

11:15-11:45

John Newman, WHNRC

Targeted lipidomic profiling: a powerful nutritional phenotyping tool

11:45-12:15

Bruce German, UC Davis

Phenotyping metabolic health

12:15-1:00

Lunch

 

1:00-2:30

                                           Phenotyping Inflammatory Health

1:00-1:30

Suzanne Teuber, UC Davis

Mechanisms and markers of immunity: focus on food allergies

1:30-2:00

Charles Stephensen, WHNRC

Food, inflammation and health

2:00-2:30

Charles Bevins, UC Davis

Influence of host immune factors & diet on intestinal microbiota & inflammation: balancing homeostasis v dysbiosis

2:30-3:00

Coffee break

 

3:00-4:00

                                                    Image Based Phenotyping

3:00-3:45

GE Healthcare

Phenotyping body composition

3:45-4:15

Kevin Laugero, WHNRC

Phenotyping response to stress and its effects on food choices

4:15-4:45

Marta Van Loan, WHNRC

Phenotyping bone health

5:00-6:30

Wine & Cheese Student Poster Session

Robert Mondavi Institute

6:30

Conference Dinner

Conference Center
Conference Program for Day 2, Saturday June 9
Time

Speaker

Topic

9:00-10:00

                                                       Phenotyping Microbiota

9:00-9:45

Jonathan Eisen, UC Davis

Phenotyping the microbial community

9:45-10:15

Carolyn Slupsky, UC Davis

Phenotyping microbial metabolism using metabolomics

10:15-10:45

Coffee break

 

10:45-4:00

                                               Nutritional and Sensory Phenotyping

10:45-11:45

Ahmed El-Sohemy, U of Toronto

Genetic basis of phenotypic variation in response to food and food selection

11:45-1:00

Interactive Lunch Session

 

Dustin Burnett, WHNRC

Amy Myrdal Miller, CIA

My Californian (Pacific West) Plate – interactive lunch session: participants challenged to build their lunch plate incorporating their personal phenotype, Californian (Pacific West) foods and the USDA MyPlate guidelines. Participants will reconvene in the lecture theater where Dustin and Amy will present their thoughts on merging USDA guidelines, phenotype characteristics, food preferences and culinary arts into a practical dietary strategy.

1:00-1:45

Hildegarde Heymann, UC Davis

Using sensory attributes to improve food choice

1:45-2:15

Charlotte Biltekoff, UC Davis

Social and cultural factors in food choice

2:15-4:00

                                         Linking Phenotyping to Dietary Guidelines

2:15-2:30

Bruce German  & Lindsay Allen

Introduction to format of the breakout-coffee-discussion session. Describe themes and session goals.

2:30-4:00

Breakout session with coffee and snacks

·         Structured interaction with industry, academia, policy and consumer organizations.

·         Developing priorities for phenotyping research: meeting the needs of consumers and industry. Key question is: what aspects of health responses to diet must be on the panel? - Blood pressure and sodium - cholesterol and fat - insulin and fructose - vitamin D and inflammation - fiber and microbiome – triglycerides and simple sugar

·         Session summary and future research priorities outlined.