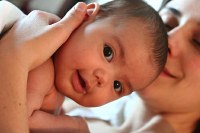 The Foods for Health Institute's mission is to bring research to practice. As a result of our research on the benefits of human milk, it is important for us to promote breastfeeding initiatives in the UC Davis community. The Foods for Health Institute has a partnership with the UC Davis Human Resources WorkLife program to support breastfeeding on campus and beyond.
The Foods for Health Institute's Breastfeeding Initiative
The Breastfeeding Initiative is a way to promote public good and disseminate the most current research findings about the benefits of breastfeeding. The partnership with WorkLife promotes awareness in underserved communities and within the medical community and public of the FFHI's important research on the benefits of human milk. The Breastfeeding Initiative aims to integrate our research advancements on the mechanistic understanding of breast milk with UC Davis WorkLife's policy and program excellence to create innovative ways to reach out to the community.
The partnership aims to bring Foods for Health Institute research to practice whether that be consulting to businesses, implementing lactation policies, strategic work through logistics of setting up lactation rooms within corporate structures or reaching out to communities where high infant mortality still exists, or just providing better tools and resources for women who cannot afford a private lactation consultant or do not have coverage from health care providers.
Foods for Health Institute human studies on breastfeeding: