The International Symposium on Milk Genomics and Human Health kicked off with a welcome from Butch Dias of the California Dairy Research Foundation. Dias expressed his excitement in building relations between food scientists and dairy farmers; he encouraged the scientists of the IMGC to "boldly go where no one was gone before." Bruce German, Ph.D., UC Davis Professor of Food Science & Technology and Director of the Foods for Health Institute, delivered the symposium opening remarks and introduced the first keynote speaker, Dr. Jeffrey Gordon.
Jeffrey I. Gordon, M.D. (pictured, left) is the Dr. Robert J. Glaser Distinguished University Professor and Director of the Center for Genome Sciences and Systems Biology at Washington University School of Medicine in St. Louis. Dr. Gordon delivered the 10th Anniversary Plenary Lecture, titled "Dining in with trillions of fascinating friends: exploring our human gut microbiota in health and disease." Dr. Gordon noted that this is a "defining century for our species," and that in order to face the unique challenge of feeding the 9-10 billion people on our planet over the next 40-50 years, we need to forefront the issues of sustainability and climate change, as well as our cultural expectations. We need to "devise new ways to feed ourselves" and a better way to describe the nutritional qualities of food.
Dr. Gordon noted that nutritional value is not defined in absolute terms, but rather we must consider the consumer's own gut microbiota and design foods "from the inside out, as well as the outside in." Dr. Gordon's presentation focused on how our gut microbiota – the collection of microbial species that form a microbial community –are fundamental to understanding human health more broadly. Our metabolic features are an amalgamation of human and microbial contributions, and the research in Dr. Gordon's lab explores the interrelationships between diet and the structure and dynamic operations of the human gut microbial community. Dr. Gordon presented key findings from twin studies of adults in the U.S. who are concordant or discordant for obesity, and of youth in Malawi and Bangladesh who suffer from severe acute malnutrition. Dr. Gordon's lab transplanted the human gut microbiota to germ-free mice, and then tested the effects of various diets. The impact of diet on these mice can reveal something about the workings of the gut microbiota, food choices, and overall health. 
The next presentation featured Daniela Barile, Ph.D., (pictured, left) an Assistant Professor and Chemist in the Department of Food Science & Technology at University of California, Davis. Dr. Barile spoke on the "Effects of consuming milk oligosaccharides (extracted from cheese whey) on gut microbiota and tolerability in healthy humans." Dr. Barile explained that the human milk oligosaccharides found in breast milk are indigestible to human babies, but they feed the microbiota in the infant gut. There are similar oligosaccharides in bovine milk, and Dr. Barile has found a way to extract them from whey. Whey is a byproduct of cheese production and Dr. Barile is able to find a productive use for this readily available industrial waste. Dr. Barile described the results of a human trial with bovine milk oligosaccharide (BMO) supplementation, and she plans to further develop the viability of BMO supplements.
After a short break, the symposium reconvened to hear Giuliana Noratto, Ph.D., an Assistant Professor in the School of Food Science and Molecular Biosciences at Washington State University, present on how "protein-derived bioactive compounds produced during ripening of American cheddar cheese modulate fecal microbiota from obese mice." Dr. Noratto investigated the how the protein-derived compounds in aged cheese might provide health benefits by modulating gut bacterial populations to help prevent obesity and chronic diseases. Her research study looked at major changes on proteins of American cheddar cheese during ripening and the effects on the bacterial populations in fecal fermentations of obese mice. 
Following Dr. Noratto, two student travel award winners presented their research. Both Zachery Lewis and Bokyung Lee are Ph.D. candidates in Food Science & Technology at UC Davis. Lewis works in Dr. David Mills' Lab, and he presented research from his poster, "Maternal FUT2 polymorphisms influence the gut microbial communities of breastfed infants." Lee works in Dr. Maria Marco's Lab, and she presented on how "milk promotes probiotic efficacy in the intestine."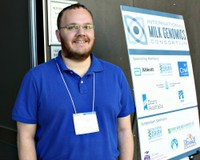 Student Award Winners, Bokyung Lee and Zachery Lewis
When the symposium reconvened after lunch break, the second set of presentations focused on the mechanisms of milk oligosaccharide utilization by bacteria. David Mills, Ph.D. and Helen Raybould, Ph.D., (pictured, below) delivered the after-lunch keynote address: "Interactions between Milk Oligosaccharides, Bifidobacteria and the Animal Host." Dr. David Mills is the Peter J. Shields Endowed Chair in Dairy Food Science in the Departments of Viticulture & Enology and Food Science & Technology at the University of California, Davis. Dr. Helen Raybould is a Professor of Anatomy, Physiology & Cell Biology in the UC Davis School of Veterinary Medicine. 
Dr. Mills described his research into "milk-oriented microbiota," or MOM. He summarized his work identifying and analyzing the diversity of structures in human milk and their complex interaction in the human gut. He focused specifically on the practice of giving probiotics to premature infants, noting that pediatric doctors deliver all kinds of probiotics, when they could be giving only the ones that are necessary or beneficial to the infant's health.
Dr. Helen Raybould then spoke on the gut-brain axis, or how the epithelium (lining of the intestine) sends messages to the brain through "chemosensor" cells.  Dr. Raybould asked if probiotics, like B.infantis outlined in Dr. Mills' work, affect the chemosensing cells in the gut; the answer is a resounding yes. Dr. Raybould found that along with complementary bacteria already present in the gut, human and bovine milk oligosaccharides activate these chemosensor cells, release specific gut hormones, and activate specific cell pathways. Probiotics and the presence of complementary bacteria activates endocrine cells in the gut, which then signal the brain through the vagal pathway, and ultimately affect human behavior. This profound discovery suggests that the gut and the brain are closely connected, and that diet and microbiota play an important role. 
The next presentation was from David Sela, Ph.D., (pictured, left) a former researcher at the Foods for Health Institute and now an Assistant Professor of Food Science at the University of Massachusetts, Amherst. Dr. Sela discussed the role of Bifidobacterium found in milk in producing a beneficial gut microbiota – with outcomes including anti-inflammatory properties and reduction in the severity of infections. Dr. Sela wanted to understand how these bacteria function in the infant gut, so he undertook a comparative genomic study to categorize the disparate functions of B. infantis and B. bifidum, and how these species sense, respond to, and metabolize human milk oligosaccharides.
Hyeyoung Lee, Ph.D. (pictured, left), a postdoctoral researcher in the Department of Food Science and Technology at UC Davis, presented on how "Various Infant-associated Intestinal Bacteria Hydrolyze Milk Gangliosides in Vitro." Milk gangliosides are complex glycolipids that have recently received considerable scientific attention because of their important function in diverse biological processes, including neural development, pathogen binding, and activation of the immune system. Dr. Lee notes that milk gangliosides also appear to modify the intestinal ecology of newborns, stimulating growth of Bifidobacteria and lowering the content of E. coli. In her study, Dr. Lee fills a gap in the research by more closely investigating the interaction of milk gangliosides and individual strains of Bifidobacteria. 
The first day of the International Milk Genomic Consortium concluded with a keynote from Dr. Bruce German and a panel discussion featuring Dr. Daniela Barile, Dr. David Mills, and moderated by Peter Williamson, Ph.D., Associate Professor of Genomics at the University of Sydney, Australia. Dr. German reflected on the 10th anniversary of the IMGC, and identified a key goal for the IMGC to engage with the dairy industry on innovative science. He stressed that lactation is a "whole genome endeavor" and that at our core "mammals are all about lactation." The goals of the IMGC, according to Dr. German, are to continue to investigate the mechanisms of mammalian milk, to understand the relationship between milk and human health, and to foster strong partnerships between scientists and the diary industry, especially through scientific translation and education. 
 The panel discussion elaborated key parts of Dr. German's keynote, and added that issues of government regulation and funding shortages are challenges for both milk scientists and the dairy industry. The future of milk research will also need to account for the changing food and consumer landscape, and address concerns about health and safety. Despite the challenges, the audience of milk scientists and dairy industry representatives at the IMGC seem optimistic and excited about the future. Taken together, the demand for raw milk and other specialty or craft dairy products, the revolution of microbiota research, and the shift towards complexity (rather than reductionism) in science, present opportunities for growth in the study of milk and human health.