Lunch Love Community brought together a diverse audience of UC Davis researchers and staff, as well as active members of the community, to screen several short films by directors Helen De Michiel and Sophie Constantinou. Sara Schaefer, Associate Director of Education with the Foods for Health Institute, and UC Davis faculty member Charlotte Biltekoff assisted with several aspects of the event and introduced the event, the filmmakers and speakers.
The Lunch Love Community films capture the various perspectives and communities involved in the school lunch program at Berkeley Public Schools. The filmmakers deliberately composed short films and made them publically available in a user-friendly format so the films could circulate through social media. On the Lunch Love Community website, the filmmakers acknowledge the Berkeley citizens, community advocates, and food professionals as "co-creators" in the task to document the more than decade-long effort to "change the way children learn about food, gardening and receive healthy and nutritious from-scratch meals in the public schools … and to realize this vision and make it operational."
The event which took place in the Robert Mondavi Institute's Sensory Theatre included screenings of four of the short films which were followed by respondents from the local UC Davis community. The spectacular collection of respondents included Danielle Lee, Sustainability Manager for University Dining Services at UC Davis; Gail Feenstra, Food Systems Analyst in the UC Davis Sustainable Agriculture Research and Education Program (SAREP); Rafaelita "RC" Cuerva, Director of Student Nutrition Service for Davis Joint Unified School District; and, Ann Owens, former Davis Mayor and Co-leader of Slow Food Yolo.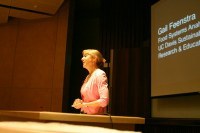 Each member of the panel brought an interesting and unique perspective to the issue of improving the quality of school lunch programs. Danielle Lee spoke about the tremendous efforts of the UC Davis campus dining team to source and produce locally-grown, from-scratch meals in the UC dining commons. Danielle included examples of house-made granola and marinara sauce made with roasted tomatoes from a local farm. Gail Feenstra is a celebrated farm-to-school advocate; she shared her experiences of building a network of farm-to-school programs in the Davis area and throughout the country.
Rafaelita "RC" Cuerva has worked in the Davis school district's student nutrition services for over a decade. At the Lunch Love Community event, she shared her passion for fresh, tasty food for Davis schoolchildren. In 2011, RC Cuerva was recognized by celebrity chef Jaime Oliver as a "Food Revolution Professional" for her leadership in building sustainable, community-based food programs in the school district. The last speaker was Ann Owens, former Davis Mayor and co-founder of Slow Food Yolo. Owens spoke about her organizing efforts as former mayor and as a Davis resident to bring locally-produced food options to the city, including the widely hailed Davis Farmer's Market and Davis Food Co-op.
The RMI Sensory Theatre was packed with academics, food activists, and UC Davis students and community members. Several students from Professor Biltekoff's "Food in American Culture" class thought the event presented "compelling ideas" and was "very interesting overall." Students were especially struck to find out how much work has been done here in Davis to bring locally-produced, from-scratch foods to Davis schoolchildren and UC Davis students in the dining commons.
The Lunch Love Community event highlights the combined effort of food activists and enthusiasts throughout the City of Davis and the UC Davis community. The filmmakers, Helen De Michiel and Sophie Constantinou encouraged the audience to "like" their Facebook page and share the videos with their friends in order to "open up a space for personal reflection, further dialogue with others, and inspire action for change."