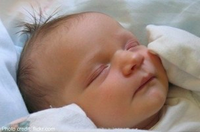 Who is conducting this study?
This study is led by Dr. Mark Underwood M.D. and colleagues at the UC Davis Medical Center, Foods for Health Institute, Food Science and Technology, Viticulture and Enology, and Chemistry departments. This study has been reviewed and approved by the UC Davis Committee for the Protection of Human Subjects.
What is the purpose of this study?
This is a clinical trial designed see whether dietary supplements can change the microflora in the intestines of premature infants to be more like those of healthy breast fed term babies.
Who can participate?
Babies born in or transferred to UCDMC within the first two weeks of life, whose birth weight is less than 1500 grams and whose gestational age was less than 33 completed weeks. Please click here for a detailed description of the study.
For more information please contact the Study Coordinator, Dr. Majid Mirmiran (916) 734-4790 or email at majid.mirmiran@ucdmc.ucdavis.edu.